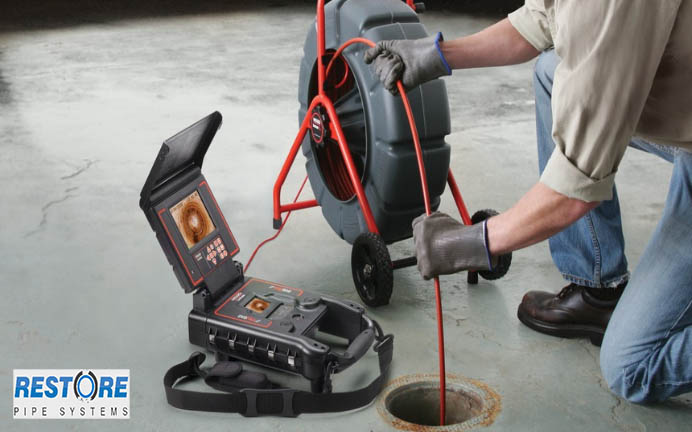 While it is easy to focus on maintaining the elements of your home that are visible, it is crucial to pay close attention to the important elements that are hiding underground or behind the walls.
Plumbing is often out of sight, out of mind but it is an integral part of your property. Sewer camera inspection services will enable you to fully understand your plumbing system, ensuring it is in optimal condition, keeping your home or business safe and running smoothly. <
What are Sewer Camera Inspection Services?
During sewer camera inspection services, technicians will use a small waterproof video camera mounted on the end of a flexible cable. This camera snake is inserted into the sewage system and pushed through the pipeline, enabling professionals to complete a visual inspection.
The sewer camera connects to a portable, closed-circuit display and strong, bright lights on the camera irradiate the interior, exposing every detail inside the pipe, in real-time. This will allow professionals to locate the presence of debris, clogs, cracks or even the smallest hairline fracture.
Homeowners or property managers often call a professional pipe restoration professional when a foul smell arrives, or clogged drains persist. As your technician snakes the cameras through your pipe and provides an internal diagnosis, the footage can be displayed on a monitor for customers to view. A proper solution and action plan will then be developed to solve the problem.
Additional Benefits
What Sewer System Do You Have?
The sewer inspection will allow us to determine the pipe type, condition and location. Through the visual inspection, your hired professional can quickly and efficiently understand the sewer system.
Pinpoint the Problem
Sewer systems can be large and complicated with multiple pipes leading to numerous locations. By using sewer camera inspection services, we can trace the problem in its exact location, enabling them to generate a plan that can save unnecessary, costly repairs.
A Final Thought
Sewer camera inspection services is one of the best investments you can make as a home or property owner. While your sewer system can easily be forgotten as it hides underground and behind your walls, ensuring it is in prime condition is crucial to maintaining a safe, healthy, and happy home.
A sewer camera inspection allows you to find the problem quickly and efficiently, saving you costly repairs in the future. With an inspection, your pipe restoration professional can keep an eye on the condition of your pipe walls and assess whether your lines need to be cleaned, repaired, or replaced. A sewer inspection should be a mandatory part of your house inspection checklist. When considering what inspections to get when buying a house, never overlook the sewer line.
If you are looking to renovate your home, or if you are buying a new home, a sewer camera inspection is always recommended to ensure that the sewer piping is up to code and to eliminate any future and costly issues. Contact Restore Pipe Systems if you have a sewer system that is need of trenchless pipe repair technology. "Let's fix your problem"